Online Computer Science
Campus Computer Science
Online Computer Science Program
Computer Science
Degrees and Programs
The Bachelor of Science in Computer Science degree teaches a comprehensive foundation in appropriate business skills, the use of networks, the development of programming skills and data administration, as well as how to manage and complete various IT projects. This degree is ideal for the highly technical, analytical student who enjoys working with computers and wants to build his career in computer architecture, workflow analysis and design, and programming.
Computer Science Degrees Programs By Subject
Computer Databases
Computer Networks
Computer Office Assistant
Computer Applications
Computer Programming
New Media
Web Development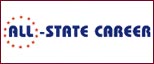 All-State was founded to provide you with the quality training necessary to meet your career objectives in many of the largest industries in the country ranging from healthcare and trades to commercial driving. In addition to offering CDL training in Maryland and Pennsylvania, we offer dental assisting classes, a welding technology program, electrical systems technology training and so much more.