Online Computer Science
Campus Computer Science
Online Computer Science Program
Computer Applications
Computer Applications: The Computer Applications Technology curriculum is designed to provide training and education for a specialized career making use of personal computers and Microsoft® Office. This program places emphasis on developing strong computer software applications skills along with a broad keyboarding proficiency, while at the same time, refining basic general education skills.
Computer Applications Colleges and Universities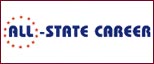 All-State was founded to provide you with the quality training necessary to meet your career objectives in many of the largest industries in the country ranging from healthcare and trades to commercial driving. In addition to offering CDL training in Maryland and Pennsylvania, we offer dental assisting classes, a welding technology program, electrical systems technology training and so much more.