Online Engineering
Campus Engineering
Online Engineering Program
Engineering
Degrees and Programs
Online Engineering Degrees: A career in engineering offers graduates an exciting opportunity to work in a high-tech field that is brimming with opportunities. The study of engineering offers a variety of specialty majors including civil, electronic, mechanical, industrial, electrical, environmental, computer hardware, aerospace, petroleum, chemical, nuclear, health & safety, materials, biomedical, and agricultural engineering. Candidates for engineering degrees should possess an aptitude for math and science; and students will develop their analytical and problem-solving skills throughout the challenging degree program.
Engineering Degrees Programs By Subject
General Engineer
Industrial Engineering
Mechanical Engineering
Microsoft Engineer
Network Engineer
Software Engineering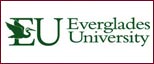 Everglades University is an accredited, private not-for-profit university offering bachelor's and master's degree programs that prepare students to advance in their careers or fields of study.