Online Engineering
Campus Engineering
Online Engineering Program
Software Engineering
Software Engineering Degree Programs: Equipped with a software engineering degree, apply the standards of computer science and mathematical analysis to software and systems that make computers work. The duties performed by computer software engineers will change quickly, reflecting new areas of specialization or changes in technology, as well as the preferences and practices of employers.
Software Engineering Colleges and Universities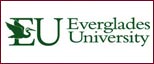 Everglades University is an accredited, private not-for-profit university offering bachelor's and master's degree programs that prepare students to advance in their careers or fields of study.