Online Engineering
Campus Engineering
Online Engineering Program
Network Engineer
Network Engineer: A network engineer information technology professional who designs, implements, and troubleshoots computer networks. In general, a network engineer will not regularly perform system administration tasks, but will instead concentrate on high-level network related duties such as network architecture, network design, choosing of network devices, and network policies.
Network Engineer Colleges and Universities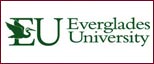 Everglades University is an accredited, private not-for-profit university offering bachelor's and master's degree programs that prepare students to advance in their careers or fields of study.