Online Engineering
Campus Engineering
Online Engineering Program
Microsoft Engineer
Microsoft Systems Engineer Certification Training (MCSE): The Microsoft Certified Systems Engineer (MCSE) credential epitomizes the computer industry's highest training standards for information technology professionals who analyze, design, and implement the foundational infrastructure and protocols for business solutions based upon the Microsoft Windows operating system and Microsoft Servers software. Enroll in our online Microsoft certification classes to prepare for these exams; and earn one or more of these salary-boosting Microsoft certifications.
Microsoft Engineer Colleges and Universities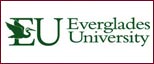 Everglades University is an accredited, private not-for-profit university offering bachelor's and master's degree programs that prepare students to advance in their careers or fields of study.