Online Engineering
Campus Engineering
Online Engineering Program
Mechanical Engineering
Mechanical Engineering: is an engineering discipline that was developed from the application of principles from physics and materials science. Mechanical engineering involves the analysis, design, manufacturing, and maintenance of various systems. It is one of the oldest and broadest engineering disciplines.
Mechanical Engineering Colleges and Universities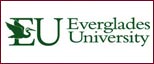 Everglades University is an accredited, private not-for-profit university offering bachelor's and master's degree programs that prepare students to advance in their careers or fields of study.