Online Engineering
Campus Engineering
Online Engineering Program
Industrial Engineering
Industrial Engineering: is a branch of engineering that concerns with the development, improvement, implementation and evaluation of integrated systems of people, money, knowledge, information, equipment, energy, material and process. It also deals with designing new prototypes to help save money and make the prototype better. Industrial engineering draws upon the principles and methods of engineering analysis and synthesis, as well as mathematical, physical and social sciences together with the principles and methods of engineering analysis and design to specify, predict and evaluate the results to be obtained from such systems. In lean manufacturing systems, Industrial engineers work to eliminate wastes of time, money, materials, energy, and other resources.
Industrial Engineering Colleges and Universities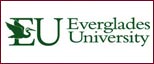 Everglades University is an accredited, private not-for-profit university offering bachelor's and master's degree programs that prepare students to advance in their careers or fields of study.