Online Engineering
Campus Engineering
Online Engineering Program
General Engineer
General Engineering: Engineers apply the principles of science and mathematics to develop economical solutions to technical problems. Their work is the link between scientific discoveries, and the commercial applications that meet societal and consumer needs. Many engineers develop new products. They work closely with the development of many different products, such as chemicals, computers, power plants, helicopters, and toys. In addition many engineers work in testing, production, or maintenance.
General Engineer Colleges and Universities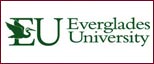 Everglades University is an accredited, private not-for-profit university offering bachelor's and master's degree programs that prepare students to advance in their careers or fields of study.