Online Arts and Design
Campus Arts and Design
Online Arts and Design Program
Floral Design
Floral Design: Floral design is the art of using plant materials and flowers to create a pleasing and balanced composition. Evidence of refined floristry is found as far back as the culture of Ancient Egypt. It is also an art form of using a variety of botanicals and other natural and artificial materials to create designs that encompass most or all of the principles and elements of floral design. They include: form, accent, texture, depth, line, focal point, contrast, space, harmony, unity, balance, rhythm, tension, proportion, repetition, creativity and absence of visible mechanics.
Floral Design Colleges and Universities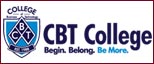 CBT College is a higher education & career education institution based in the city of Kendall, Florida and operating four more campuses in Greater Miami (Flagler Street area), Hialeah, and Cutler Bay areas.