Online Arts and Design
Campus Arts and Design
Online Arts and Design Program
Film And Photo
Online Film and Photography Programs: The Film and Photography television, video, and motion picture camera operators that produce images that tell a story! Film and Photography are also the foundation for those seeking careers as graphic designers, digital art designers, animation artists, computer gaming, web graphic design, webmaster, multimedia, e-tailing or e-commerce design and any where art is applied.
Film And Photo Colleges and Universities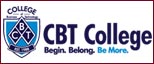 CBT College is a higher education & career education institution based in the city of Kendall, Florida and operating four more campuses in Greater Miami (Flagler Street area), Hialeah, and Cutler Bay areas.