Online Mechanics
Campus Mechanics
Aviation Mechanic
Aviation Technician Programs: At our Aviation Schools, you can earn an Associate of Applied Science Degree in Aviation Maintenance Technology. Aviation Maintenance training is ideal for former military personnel. Earn your Advanced Aviation Electronics Technology Certification or become a Airframe and Power plant Technician, or obtain FAA Mechanic Certificates, or A&P Technicians Federal Aviation Administration (FAA) certification at our airplane and jet engine schools.
Aviation Mechanic Colleges and Universities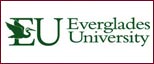 Everglades University is an accredited, private not-for-profit university offering bachelor's and master's degree programs that prepare students to advance in their careers or fields of study.