Online Mechanics
Campus Mechanics
Automotive Detailing
Automotive Detailing: Learn to professionally detail cars and trucks for automotive showrooms and to add value to pre-owned vehicles. The courses cover the essentials of preparing a car for the showroom floor and offer hands-on skills in exterior and interior maintenance for used automobiles.
Automotive Detailing Colleges and Universities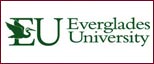 Everglades University is an accredited, private not-for-profit university offering bachelor's and master's degree programs that prepare students to advance in their careers or fields of study.